How PRIVATE PRIMARY HEALTHCARE became accessible for ALL in a Fast- Food Chain
According to Adrian Basson, chief executive officer of Hungry Lion, the COVID-19 pandemic really brought home the importance of health, and the company therefore decided that healthcare cover should be expanded to include vulnerable workers who should not have to risk visiting public health facilities if they are ill.
As the economic challenges dawned on many institutions, the need for safe and quality primary healthcare became even more apparent. National HealthCare Group embraced the market demands and developed a unique WhatsApp based technology solution for clients, MediClub Connect™, whereby employees can virtually or physically consult with a GP, receive medication and blood tests.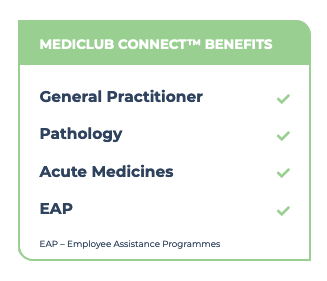 Commenting on the development, Dr Reinder Nauta, Chairman of National HealthCare Group, said that the ability to respond to increased demand from employers and medical schemes to lower healthcare costs, while broadening access to healthcare services, sets this initiative apart, and addresses pressing priorities in the South African healthcare sector.
One of the first companies to introduce the benefit into the workplace was fast-food chain, Hungry Lion, which signed up approximately 3,000 staff members across South Africa. Many of these staff members previously relied on government healthcare services, but now have access to professional advice, referrals to general practitioners and medication where needed.

After the seamless and successful rollout of the service, further assistance to the employees were made available on the same platform at no additional cost by adding Employee Assistance programs such as trauma, legal and debt counselling.
Once Hungry Lion could trade again after the forced lockdown, it became apparent
that further cost savings were required and a project was launched to migrate employees
who were still on traditional medical aid products to the MediClub Connect™ solution.
The downstream cost savings benefited the Employer as well as the employees.

The MediClub Connect™ model has had an immediate impact on the health and well-being of Hungry Lion employees and results are evident even within a fairly short period of time.
The outcome after six months
---